Step into a world where artistry meets passion, and each creation tells a tale woven by a single hand. Welcome to my Pyrography Subscription Box—a curation of my handmade creations delivered to your doorstep.
Each item in the subscription box is a testament to my dedication and passion for the craft. Every stroke, every design, carries a piece of my artistic soul, ensuring that each you not only receive just an item, but a piece of my heart.
Accompanying each creation, delve into the fascinating insights that inspired the theme. Gain a personal understanding of the stories behind each piece, allowing you to connect with the art on a deeper, more personal level.
Why Choose My Subscription Box?
Each creation is personally handcrafted by me, ensuring a unique and authentic touch.
From wood burnings to personalized engravings, my art offer a diverse range of treasures.
Experience a direct connection with the artist behind the art, fostering a deeper appreciation for the craft.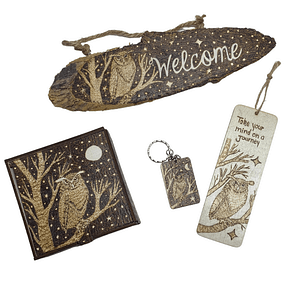 Mark your calendar for our upcoming release scheduled for the first week of January with the Owl Theme. Included will be:
Welcome Sign
Trinket Box
Keychain
Bookmark
Postcard (not seen)
Want this box? Subscribe before December 22nd, 2023.
Schedule the Pyrography Subscription Box Release is:
January, March, May, July, September, and November.
So what does it mean if you sign up for 2 boxes in March? You will get May and July. And if you sign up for 4 boxes in July you will get September, November, January and March.
Subscribe to my Pyrography Subscription Box and be part of an intimate artistic experience. Each box is an invitation to explore my world of art, showcasing the depth and beauty of handmade creations.